In 2018, we pray to a fish. While rehearsing bets around a communion, we not only asked ourselves with what ingredients or techniques we could work with what ended up being a hake wafer with aioli, but also how to share the essence of a ritual like this through different forms of expression.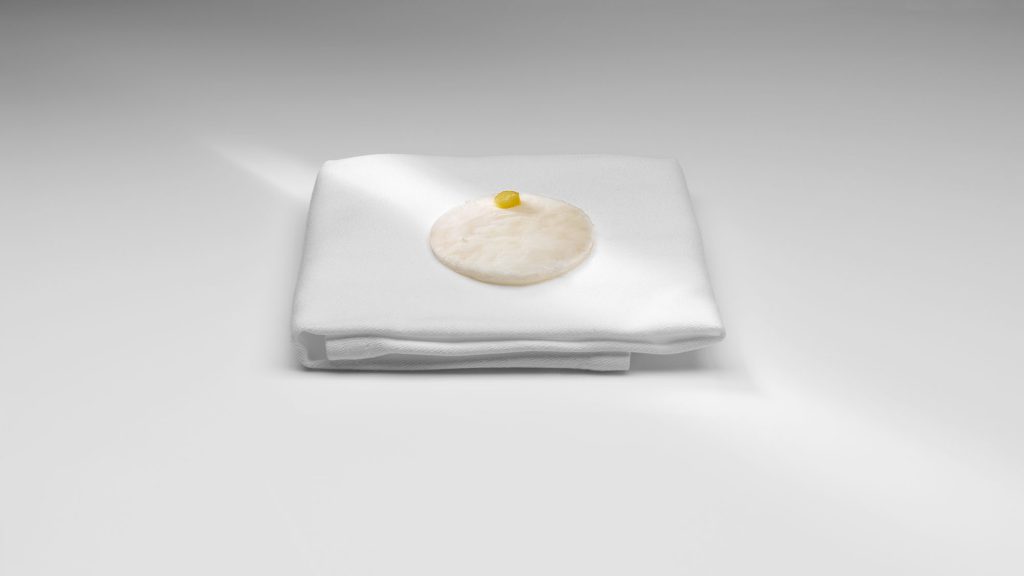 We were interested in promoting a pact between accomplices at the moment the menu began: the guests received the wafer directly on their hands and took it to their mouths sealing a meeting with the unexpected textures offered by that wafer made with hake, in which a small dot of aioli was added just before being placed on the cloth napkin given to each one.
Far from limiting the exercise to the table, we appealed to audiovisual language with the idea of making a video that would convey what for us was the encounter with the hake's hailstone skin.
Then, transferring the creativity of our cuisine to the narrative language, we composed with the help of the writer Raúl Nagore a communion prayer, regarding the publication of our book Mugaritz Puntos de Fuga.
Take this, all of you, and eat of it,
If you come in the name of curiosity
If you are hungry and thirsty for experience
For it is written that man does not live by bread alone
While a little bit of lobster never hurts

Take this, all of you, and eat of it,
Leave the old adjectives at the entrance
From here on it's not worth a uhm, how nice
From here on, it's not worth an agh that's bad
Open your language to new catalyst
Those who seek the right word will find it…
From the Tree House, we rehearsed our verses with those who encouraged us to practice #fluidity as an exercise in #MentalGymnastics